Monarch Crest Ride - A Colorado Classic
I took a needed day off work and headed to Poncha Springs with two other Boulder locals for a day on the Monarch Crest trail. The ride is a 35+ mile adventure, with few bail out points and a significant amount of climbing above the 10,000 feet elevation mark. When people talk about high country epic rides, this one is at the top of the list. Mountain bikers live for rides like this, and after two years of desperately wanting to ride this trail, I got the opportunity.

I had my doubts if I was really ready for this, but even lugging a Camelbak that had to weigh over 30lbs, I finished and didn't feel like I was 100% tapped out like some other long, hard rides I've done.

Letting the Yeti pose at the touristy spot before the start of the ride



You start out climbing immediately, which hurts under normal circumstances, and hurts that much more when you are starting above 11,000 feet. Blue lips are in this year right?

Even though your mind is oxygen deprived, the views still register as incredible. I can take all the pictures in the world, but they'll never match what my eyes saw. The green alpine tundra contrasting with the blue skies provide scenic views uncomparable to anything I've seen on a bike ride before.




As you break through the tree line, you spy "the Crest" that you will soon be upon. I can't explain the feeling I had when I was spinning my way up the trail towards the apex, but "giddy like a school girl" is probably close. Pain was quickly forgotten as we neared the top.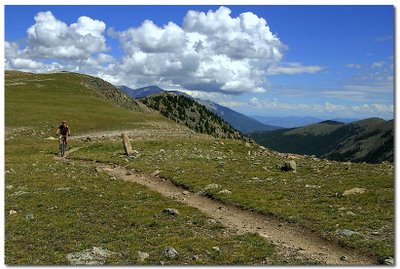 After our first big descent of the day, we stopped and had some much needed lunch. We still had about 2/3rds of the mileage in front of us, but I knew the last section, The Rainbow Trail, would require some energy that wouldn't be there unless I got some food.

The bad part was shortly after consuming a big roast beef & swiss sandwich with a couple of GU packets as chasers, we started climbing again. The food was weighing on me and the elevation (11,300 feet at that point) was making me wonder if I was going to be able to finish what I had started.

Luckily, that climb was pretty shortlived and we then were treated to a high speed, brake burning descent towards Silver Creek. This descent was fast and loose with the trail barely wide enough for your tire. As we ripped through the alpine meadows I thought "it doesn't get much better".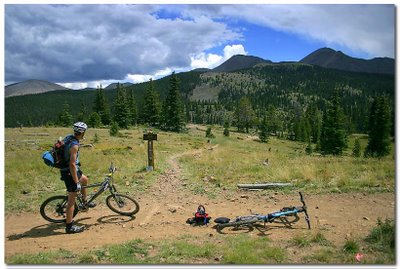 The ride flattened out a bit at the bottom of the Silver Creek trail, and we made our way to the Rainbow Trail, a 9 mile long, up and down trail that would be the final leg of our journey.

As it wound its way slowly down, we had lots of steep but short climbs that would pop up unexpectedly from around a corner. Grinding out these steep climbs wasn't easy on tired legs, but I kept turning the pedals and only had to walk one or two of the steepest sections on the ride.




The one problem we had on the ride happened just about the middle of the Rainbow Trail. As I rode along on a thin, gravely track I heard a huge bang that made my already tired heart jump about 15 beats per minute. As I checked myself for gunshot wounds, I realized that it was just a blow out on my tire. No big deal, I've got two extra tubes.

"Well this is interesing..."

Under closer inspection I realized it wasn't just a tube that had blown out, but I had actually blown out the sidewall of my tire. Not so good. With a little help from Sean, we managed to use some duct tape on the inside of the tire to improvise a boot that would hopefully keep the sidewall from separating anymore and keep the tube from pushing out the sidewall.

We threw in a new tube, pumped it up and gave it the thumbs up. Not sure that it would hold for the next 6 miles, but willing to try to make it as far as we could, we set off down the trail again.

I had Sean go in front of me so I could "take it easy through the rocks" and try to save my tire. Well that lasted about 50 yards before I let go of the brakes and started ripping the downhill like I normally would. Hey if I'm going to have to walk, I might as well have fun up to that point right?

The next 5 miles is pretty much a blur as we descended quickly towards Highway 285, with the final section being very steep and loose. Before we knew it, we hit the highway which signified the end of our ride. A quick couple miles of downhill on 285 back in Poncha and we were at the car again.

Such a great ride, and perfect weather and trail conditions really made this a tremendous experience. No blood, no serious mechanical problems, and no torrential downpours or lighting on the high ridges. You really can't ask for a better day to get out and ride what a lot of people consider to be the best ride in Colorado. What a ride...
Images